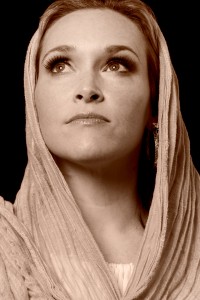 Stephanie has been performing nationally since 1994. Originally from Detroit, Michigan, Heidemann's International upbringing in South America, Australia and Europe exposed her at a young age such that by age 20 the course of her music was brought into the dimension of World Music.
Stephanie studied with and was mentored by NY's Metropolitan Opera highly acclaimed Mezzo, Brenda Boozer for many years.
For seven years, Heidemann toured nationally with the robust World Music a cappella quartet, "VIDA". Managed by NYC's IMG-Artists, they toured the U.S. extensively, gaining National attention from Industry Press such as Billboard Magazine. They received much attention for their Eastern European and S. African harmonies after auditioning for Paul Simon's broadway show, "The Capeman" and continued on in a worldwind of gigs from major University stages, World Music Festivals to Rockefeller Center. They recorded two albums-"VIDA" and "In Bloom". Their original piece "Famine Song" (In Bloom) is being sung by choirs around the globe well after their disbanding in 2001.
For 14-years, Heidemann and percussionist Julian Douglas have been collaborating as The Resonance Project. They utilize the most basic and emotive instruments, the voice and drum, as their instruments. The Resonance Project draws from indigenous, folk & mystical traditions from Spain, India, the Middle East, Eastern Europe, Africa, and Fusion Jazz. Their written repertoire reaches from World Fusion into contemporary styles such as Pop and R&B. The Resonance Project duo reaches into community settings teaching interactive workshops on Voice & Rhythm with an emphasis on music as a personal-transformative, creative experience. "Sound & Silence" is their workshop series. TRP also has collaborated on CD projects with varying musicians and bands. Since 2009, they have been collaborating with inventor/artist David Gittens writing and recording music soundtracks for his films, which have since been included in the Sarasota Fringe Film Festival. (See Videos) They have toured around the U.S. and collaborated on albums with Sufi-Alternative rock band, Hudost. In 2008, TRP collaborated with R&B singer-songwriter Charles Gibson releasing the CD: "Your Voice Through Mine" in honor of his beloved brother, who rests in peace.
Stephanie's passion lives in arranging & performing Early Spanish music, Devotional & Sacred Chant & African-influenced folk music. She has received national attention for her CD The Cantiga Project~ a tribute of 13c Spanish Devotionals to Saint Mary called "Cantigas de Santa Maria". They have been highlighted on NPR's All Songs Considered. The multimedia publishing company, Sounds True, Inc has included tracks from The Cantiga Project in a worldwide distributed CD Compilation Songs of Mary.
Stephanie resides in Sarasota, FL with her toddler son, and music partner Julian Douglas, where she enjoys teaching her workshop series Authentic Voicework in Sarasota, FL. Stephanie is a member of the International Expressive Arts Therapy Association (IEATA), and Expressive Arts Florida and enjoys opportunities to contribute to the Expressive Arts in the Community.